As kids, we were constantly terrified of the bogey man haunting the space beneath our bed. With age, that fear would have passed on and we would have laughed at ourselves for having thought of such a strange thing being found under the bed. Not these people though! Judging by what these people found under their beds, we wonder if the bogeyman would want to finally make an appearance as well. Here are 8 such oddities you can never imagine to be found under beds.
A Crocodile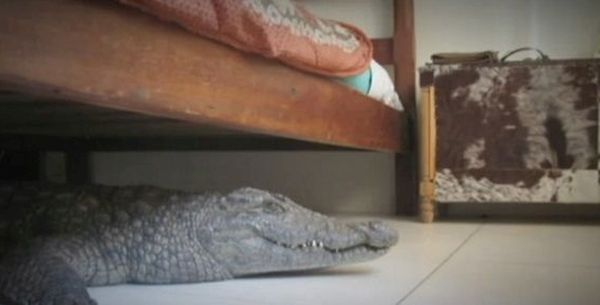 Image Source : TouristMeetsTraveler.Com
That's right! Former cricket player Guy Whittall had the shock of his life in 2013 when he spotted a 330 pound crocodile lurking under his bed at the Humani Ranch in Zimbabwe. The crocodile had apparently snuck into his room and under the bed in the night. And Whittall had no idea that he would be spending the night in the room with a live, snappy crocodile underneath his bed. It was the cleaning maid who spotted the monster the next morning and raised an alarm. Shuddering about the frightening experience, Whittall even remarked about how he had hung his feet over the side of the bed that morning and could have easily become a tasty snack for the creature.
Giant Sinkhole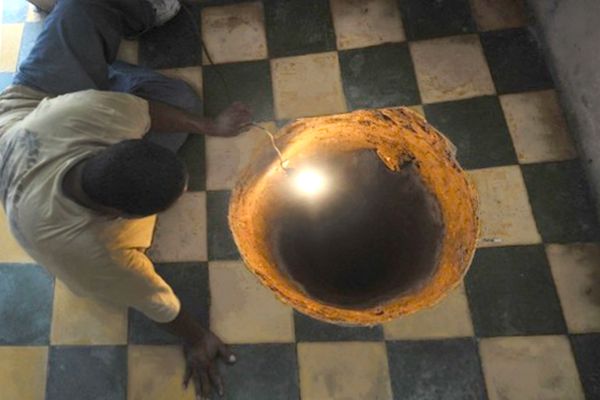 Image Source : HispanicallySpeakingNews.Com
We have all heard about giant sink holes in the wild outdoors. But finding one right underneath your bed can be a petrifying experience, as was witnessed by Inocenta Hernandez in Guatemala. Hernandez was awakened by a huge explosion in her house one morning. Upon investigating, she was horrified to see a 3 foot wide and 40 foot deep sink hole right underneath her bed. Although there was no material damage, the thought that it could have simply swallowed her completely in her sleep was more than enough to rattle her nerves.
Napolean Bonaparte's Penis?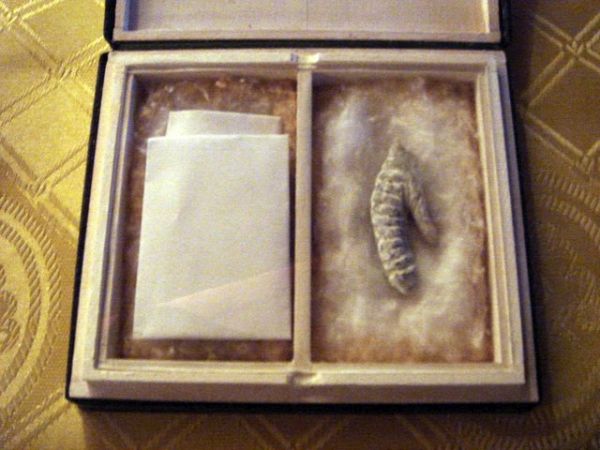 Image Source : Imgur.Com
Ok, this one is truly weird. Why would anyone want to store someone's manhood under the bed for heaven's sake? Apparently, the urologist who stored it under his bed did not consider so. Following his death in 1821, Napolean's liver, stomach and penis were removed. Although the other two organs were preserved in jars containing ethyl alcohol, the penis was not preserved and ended up shriveling into something that resembled a leathery beef jerky. After crossing several hands, the organ finally ended up under this collector's bed. It proved to be quite profitable though for the urologist's daughter ended up selling the penis for $100,000.
Escape Tunnels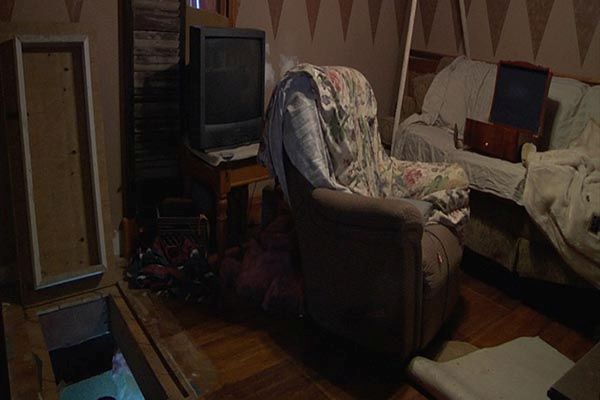 Image Source : Oddee.Com
Now we have all heard of kings and emperors having escape tunnels in their palaces to escape from intruders. Maybe, meth dealer Shane Cox was inspired by the same. When Shane was arrested in 2014 for selling methamphetamine, the police raided his home to search for more drugs, explosive devices and booby traps. They found all these items, and also ended up discovering a six foot hole under Shane's bed. The hole led to two separate tunnels that led to several escape routes within the house. Apparently, Shane had used these tunnels as escape routes to hide from the police on multiple occasions.
$1 Million Cash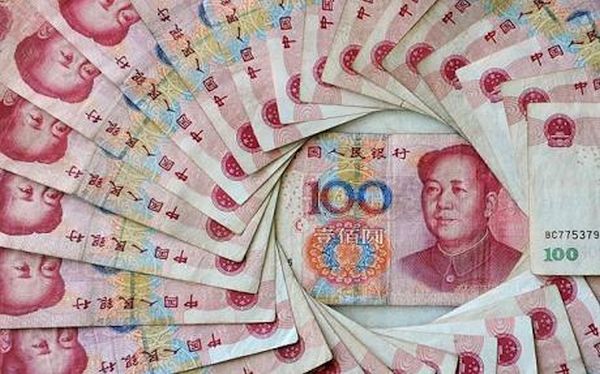 Image Source : Telegraph.Co.Uk
No we are not kidding here. In 2013, when landlord Ma Guangdi entered an apartment to clean it after a former tenant, he ended up discovering an entire stash of cash under the bed in one of the rooms. Ma carefully counted the money to find out over 6.33 million Chinese Yuan in total. The tenant who had been staying in the apartment had apparently left in a hurry and disappeared altogether. Ma didn't keep the money though, and handed it over to the authorities. The money is currently being kept in a safety account box, with police investigating the whereabouts of the previous tenant.
Porn Stash
Image Source : KhaleejTimes.Com
One has heard of hiding porn material in the home. But hiding it under a hotel bed? One guy apparently visited a hotel frequently, requesting the same room again and again. Although he would pay the full rent for the day, he would not stay in the room for more than hours at a stretch. No one came in with him and none in the hotel even questioned his intentions. It was only when the cleaning maids entered his room to clean up after a visit, that they discovered his secret. The visitor had ended up stashing tons of porn material under the bed, including magazines, movies and even used sticky lubes. Needless to say, it took quite some time for the maids to clean the room completely.
While we have heard of children, pets and even the Boogeyman hiding underneath the bed, some people have discovered some really weird things under their bed. From a 330 pound crocodile and a 40 foot sink hole to escape tunnels and even Napolean Bonaparte's penis, these are some of the strangest things ever found under beds.