Sometimes, it's not only the humans who can benefit from prosthetic technology and advancements in the field. Over the years, a lot of resilient animals have benefitted from prosthetics which gave them a second chance at life. Here are 6 such amazing examples that highlight how prosthetics can transform an animal's life just like it transforms a human's.
Tonka the Turtle: Wheels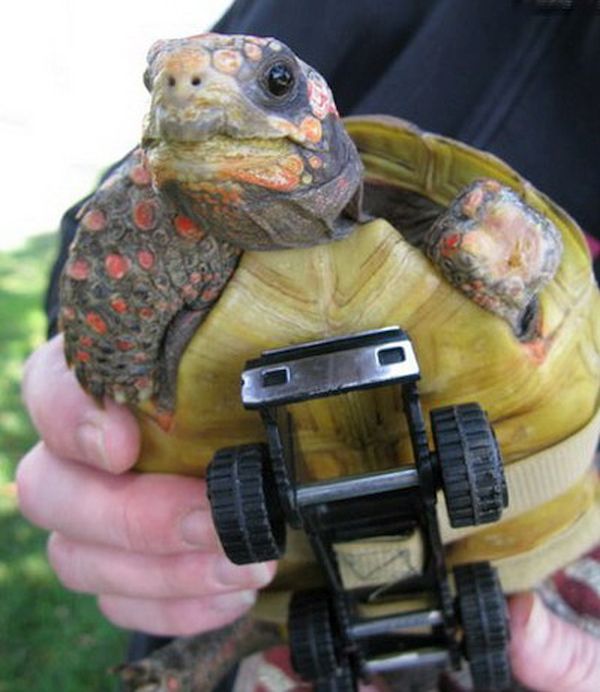 Image Source : Woosk.Com
Tonka, feisty turtle living in Bay Area in San Francisco lost her mobility when a dog bit off her leg. Tonka was taken in by the Peninsula Human Society whose workers did the unimaginable. They fitted Tonka with a set of wheels that would help her remain raised off the ground while moving her around. Needless to say, Tonka loved her new wheels and adapted to them almost immediately.

Fuji the Dolphin: Rubber Tail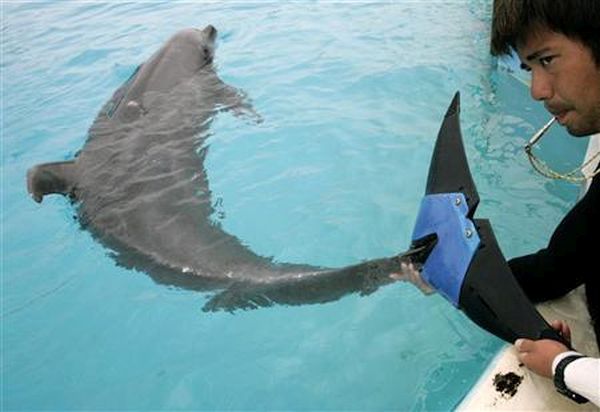 Image Source : ReutersMedia.Net
No one could stop Fuji the Dolphin from falling prey to a mysterious illness that left her tail fin almost mangled. There was no other option but to amputate her tail fin entirely. Without a tail fin to direct her movements, Fuji could no longer entertain the crowds at the Okinawa aquarium. That is, until hope showed up in the form of the Bridgestone Tire Company which collaborated with some engineers to come up with a silicon rubber tail (with foam padding) for Fuji. With it, Fuji was able to swim, jump dive and interact with other dolphins without any issues.
Uzonka the Stork: Prosthetic Bill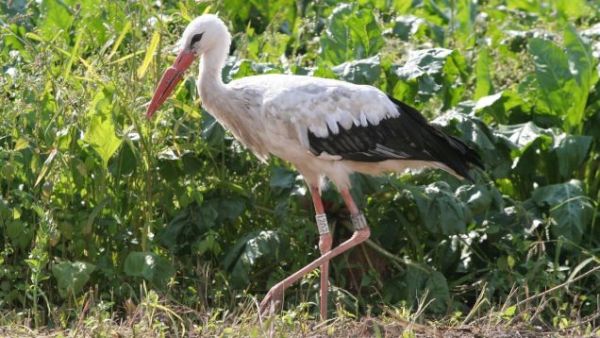 Image Source : I.Kinja-Img.Com
A bird's beak is ideally the most important part of its body after the wings. Without the beak, a bird cannot eat, drink or even hunt properly. So when a human assault left Uzonka the stork without a bill, an animal hospital in Uzon, Romania took her under their wings and fitted her with a prosthetic bill after a total of five preparatory operations. The prosthetic bill saved Uzonka who is now in the care of the hospital itself.
Motala the Elephant: Wooden Leg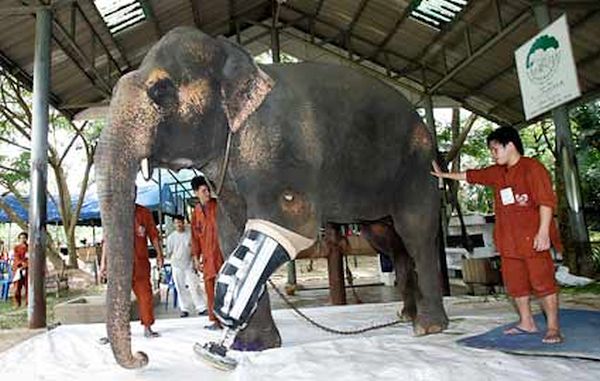 Image Source : Blogcdn.Com
Motala was gravely injured when she stepped on an active landmine during work. A three day trek to an elephant hospital did not yield fruitful results as the doctors revealed that they had to amputate Motala's leg completely. Life came to a standstill for the elephant afterwards until seven years later, the same hospital that had operated on her leg, came forward to fit her with a wooden prosthetic leg. With it, Motala managed to get back on her feet and is doing just fine now.
Oscar the Cat: Hind Paws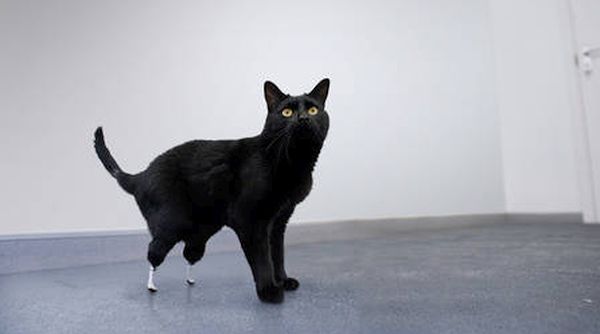 Image Source : SmithsonianChannel.Com
Oscar's owners found him at the edge of a field, bleeding profusely. A closer inspection revealed that Oscar had accidently wandered onto the path of a combine harvester that had chopped of both of his hind legs. Although things looked bleak for Oscar, his owners did not lose hope and called someone, they knew made prosthetic limbs for injured dogs. A complicated operation later and Oscar was fitted with titanium limbs that allowed him to run, jump and do whatever he wanted with ease.
Naki'O the Dog: Four Paws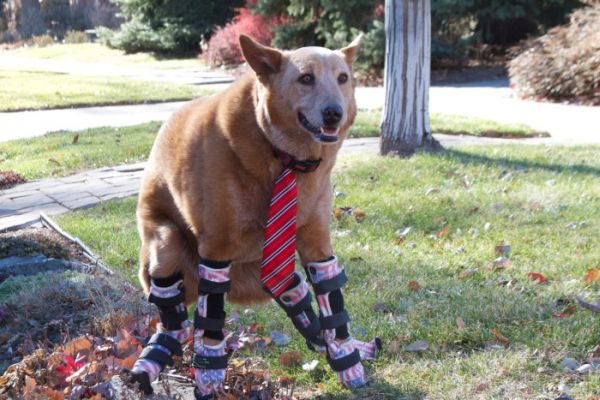 Image Source : Momdoesreviews.com
Naki'O's initial days as a puppy were anything but pleasant. At just five weeks old, Naki'O was abandoned along with the rest of his litter in a foreclosed home. It was winter and the puppies were jammed in the cellar. Naki'O got stuck in a puddle that froze around his legs. When help arrived, all they could see were four stumps in the place of legs. Luckily though, Naki'O's case was referred to a veterinarian whose assistant raised the money to buy two prosthetic paws for him. Naki'O adjusted to the paws very well that the prosthetics company decided to gift him another pair of prosthetic paws completely free. Today, bionic Naki'O as he is fondly called, has a new lease on life as he runs and plays just like other pups.
It is not only humans, but animals who can benefit from prosthetics technology too. From wheels and rubber fins to bills and wooden legs, prosthetics can turn the life of an animal completely around and give it another chance at life.