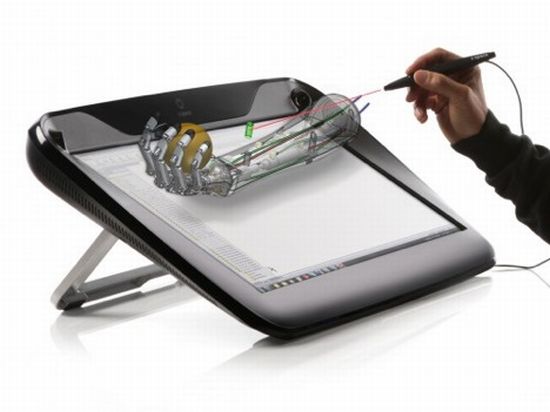 zSpace, conceived by a creative bunch of designers at California-based Whipsaw, Inc., is a concept display that allows users, which may include designers, engineers and film makers, to view objects in a floating 3D format. The 3D visualization tool relies utilizes a trackable eyewear and an interaction stylus to project zSpace objects on its proprietary stereoscopic LCD screen. For creating zSpace object, the designers utilized CAD in real-time high-definition.
As designers aimed to refresh the human-machine interface of a most commonly used tool, they considered different design interpretations before finally coming out with their zSpace concept. First, they thought of introducing the working area above or outside the display. However, later they tilted the prototype display for greater viewing angles.
The concept display was featured at the Core77 Design Awards 2012. Being one of the award-winners, the project did really well at the competition as it garnered tremendous interest from the techies.