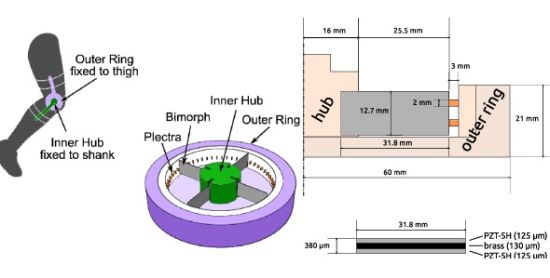 Soon you could see a knee mounted gear harvesting around 30 milliwatts of energy to power GPS tracking devices, ensuring advanced signal processing and wireless transmission. However, as of now, the device is well capable of generating two milliwatts of kinetic energy. When fully realized, the device will eliminate the need of carrying heavy, battery-powered devices. A team of researchers at the Cranfield University, the University of Liverpool and University of Salford has come up with the idea of creating this wearable, energy harvester, which could be highly helpful for soldiers who usually need to carry hefty power equipments.
Dr Michele Pozzi, the lead author of the study, says,
There is an on-going project looking at manufacturing a more compact and truly wearable harvester. At the moment we are using precise but cost-effective manufacturing techniques for the plectra and casing and anticipate that remaining parts will be moulded industrially, slashing the cost. I'd put a cost tag of less than £10 for each harvester on a large scale production.
The entire research was funded by the EPSRC and DSTL initially. The researchers conducted tests on a prototype, i.e. a knee motion simulator and were able to garner favorable results when different loads at different angles were applied on the device.
The novel device relies on body movement to gather enough charge to keep machines like pedometers, accelerometers and heart rate monitors working for hours. What users need to do is strap the power generating device to the knee joint, and forget everything about the overall charging mechanism; they don't need to replace batteries either. The circular device, which is made of an outer ring, follows knee motion to keep rotating. The outer ring with four energy-generating arms and 72 plectra interacts with another component, i.e. the central hub. Next, the deflection of plectrum goes on to generate electrical energy.
Source: IOP Science