What Are the Best VoIP Phones to Buy before the End of the Year?
Even if more and more businesses are switching to VoIP because of its cutting-edge phone systems and reduced costs, choosing the right unit for your business can be absolutely overwhelming. If you're not a telephony expert, selecting a VoIP phone for your business is not easy as you need professional advice and accurate information to select that IP phone that best suits your requirements and budget.
After careful research and speaking to some industry experts likes the ones at TelcoDepot, we've compiled a shortlist of the top 5 leading VoIP phones for small businesses in 2015. Hopefully, this review helps you make the best decision for your business. Check out the models and brands we consider the best value this year:
1. Panasonic KX-UTG300B
The 300B is clearly on the path of closing in the gap between desk phones and smartphones. Although its touch screen functionality does not apply to user input, the Panasonic 300B certainly provides a very straightforward and simple operation. Moreover, its HD Voice quality is remarkable, perhaps even topping the best phones on the market.
The 300B not only includes all the standard functions of a regular desk phone, as it also offers improved performance thanks to features such as Bluetooth compatibility. Although clearly not its main feature, the 300B sets the tone with an outstanding design that combines superb high-tech functionality with stunning aesthetics. It is safe to say that the only downside to this absolutely fantastic device is that it will cost you about $230 per unit.
2. Grandstream GXV3275
Retailing at $229, the Grandstream GXV3275 is a real winner. Its most outstanding features include a superior interface, multiple advanced features, app store functionality and simple operation. The Grandstream is one of the top leaders in the phone industry due to great design and performance. The GXV3275's Android interface is driving the IP phone industry in new directions, which has made other manufacturers follow their lead to match this development.
The Grandstream GXV3275 is not perfect though, as you will soon find out it needs to improve on voice quality. This phone certainly falls short compared to other high-ranking phones such as the Panasonic KX-UTG300B. However, the Grandstream GXV3275 outperforms the 300B in almost every other category by far. All in all, GXV3275 gets the highest honors because of its innovative contribution and ease of use.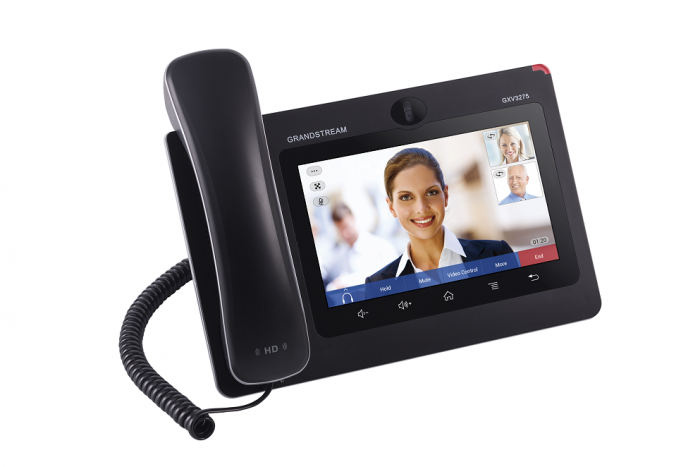 3. Polycom VVX 500
Retailing at $207, the Polycom VVX 500 is the newest addition to the company's group of business media phones. It offers great audio quality, responsive touchscreen, sensitive interface and easy setup. The VVX 500 comes with a traditional set of hard keys: a numpad with large rounded buttons that are comfortable to use, volume control buttons, headset, speaker and mute activators, and lastly a 'Home' button that brings users to the main screen on the touchscreen display.
The VX 500's touchscreen interface is one of the nicest we've seen on a desktop phone so far. The display is incredibly responsive compared to other similar phones in the market. It is also multi-touch and gesture-based, which enables to do things like type in SIP addresses quickly on the virtual keyboard and easily scroll through a website by just using your finger.
4. Grandstream GXP2140
The Grandstream GXP2140 is an outstanding mid-range phone that provides average users with great features from a robust hosted PBX company. It certainly can't be considered the best phone on the market, but standing at just $91.95, it's an option you can't miss, especially if you are looking for solid HD voice capabilities for a modest price. Although the GXP2140 may not have such advanced functionality (besides a highly advertised built-in currency converter and a weather app) it will surely provide great performance to those who just want to rely on a solid phone for day-to-day operations.
5. Polycom Soundpoint IP 550
The Polycom 550 is without a doubt one of the top-performing phones in our labs. It offers unsurpassed handset and speakerphone HD voice quality, a shiny 320×160 LCD backlit screen, and an adaptable XTHML interface, just to mention some of its more distinct features. The obvious concern about this phone is its price. It came out over the $300 mark when it was first released a couple of years back, and still today you will need to pay a little more for a 550 unit than most similar models from other manufacturers.
We hope this review comes in handy. Which VoIP phone do you think is right for your small business? Why is that so? We would love to hear your thoughts and feedback. Please feel free to write a comment below.
Article Submitted By Community Writer