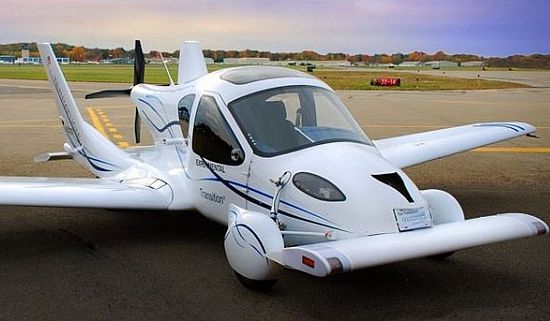 A decade ago, one could hardly relate cars with acquiring flying capabilities anytime soon. However, with the likes of Terrafugia Transition, the AVX (TX), etc. forcefully substantiating that the craze for seeing cars flying was not a figment of imagination alone, now there are horde of flying cars (concepts and actual flying versions) to keep you interested. Aside from flying, these new generation cars do equally well on roads too. Both modes can be operated manually and automatically as well. Pricey…? Obviously, these are!
Hit the jump to know about seven best roadable aircrafts that should attract the attention of excited flying car buffs:
The brainchild of a team of MIT aeronautics engineers, including Terrafugia co-founders Carl Dietrich and his wife Anna Mracek Dietrich, the Terrafugia Transition is a $279,000 roadable airplane that can fly two passengers just over 400 miles at a cruising speed of 115mph. On road, the prototype street-legal aircraft promises to deliver up to 65mph. The airbag-and-parachute-equipped, 970 pounds flying car requires at least 518 meters of runway before it actually takes to the sky. Fuel economy (in air) is about 35 mpg, while on-road range reads in excess of 600 miles.
Just recently, it moved into Phase 2 of its six planned Phases of flight-testing.
Developed by AVX Aircraft, the AVX (TX) flying car can fly four passengers at the speed of 140mph, aside from running at 80mph on road and 30mph on rough terrains. The Vertical Takeoff and Landing (VTOL) SUV switches from car to aircraft mode in less than a minute. With its capacity to fly at 10,000 feet, the AVX (TX) flying car can cover 250 nautical mile range on one tank of fuel. Touting coaxial rotor and dual ducted fans, the concept aircraft promises unmatched propulsion to ensure that perfect flight and on the ground commute. Other features include highly intuitive non-pilot operator control and navigation systems.
Just the perfect vehicle for highway and skyway transportation, the Skyblazer concept seeks to expand your local neighborhood into a 1,000-mile space. The concept roadable aircraft is capable of carrying four adults with minimum 50lbs of baggage at 310 mph cruising speed. It can automatically transform between both modes without requiring manual labor. Skyblazer fits in regular parking space thanks to its retractable wings. While it's in road mode, the flying surfaces and avionics sensors lie hidden. With first flying prototype surfacing in 2015, the initial cost of a production Skyblazer is calculated at more than $1,000,000.
The prototype personal VTOL (Vertical Takeoff and Landing) aircraft dubbed Moller M400 Skycar is an outcome of Paul Moller's forty years of dedicated efforts. Designed to cruise up to 360mph for a distance of 750 miles, the revolutionary flying car will cost $500,000 thanks to the use of eight inexpensive Rotapower Wankel rotary engines instead of jet engines. At a 4,800 ft/min rate of climb, it will have a service ceiling of 36,000 ft (10,973 m). A prototype is supposed to be flying in 2012, with certified versions "a few years later".
Conceived and created by Dutch company PAL-V Europe NV, the Pal-V roadable aircraft just recently conducted its successful maiden flight. The two-seater PAL-V flaunts an aerodynamic tilting three-wheeler design. Powered by a 160 kW flight certified gasoline engine, the flying car can accelerate from 0-100 km/h (62 mph) in less than eight seconds to a top speed of 180 km/h (112 mph). The vehicle touts estimated fuel economy figures of 12 km/l (28 mpg US) and a range of 1,200 km (750 miles) on road. In the air, it manages to cruise at a maximum speed of 97 kts (180 km/h/112 mph). The PAL-V requires a runway of 165 m (540 ft) to get into the flight mode, while 30 m (100 ft) suffices for landing it. The vehicle has specifically been designed to operate below 1,200 m (4,000 ft).
The Parajet Skycar, a Yamaha R1-engined, biodiesel-powered flying car, developed by folks at the Skycar Expedition, flaunts a commuter model, so you will not need a pilot's license to fly it. The world's first carbon-neutral flying car is a steel-framed all-terrain vehicle with a 0-60mph time around 4.5 seconds on road. A cross between a dune buggy and a paraglide, the Parajet Skycar can convert from fly-mode to drive-mode in three minutes. The Skycar requires 200 meters space to take off at 35mph, and to maintain a top airspeed around 70mph and a range of just over 180 miles. The expedition prototype, which will justify its roadable status, is expected to cost only UK£35,000.
Conceived by creatives at LaBiche Aerospace, the FSC-1TM flying sports car promises to hit airspeed more than 275 mph thanks to a pair of retractable wings. A Chevrolet and Porsche twin turbo engine will provide the much-needed thrust to the flying vehicle. What you actually need to add wings to your flying fancy is a $175,000 build-it-yourself kit (being developed as of now). However, 1/10th scaled remote controlled prototypes have been built already so you need not to wait that long to see it go past the prototype stage. The LaBiche Aerospace FSC-1 is supposed to accommodate five passengers comfortably.