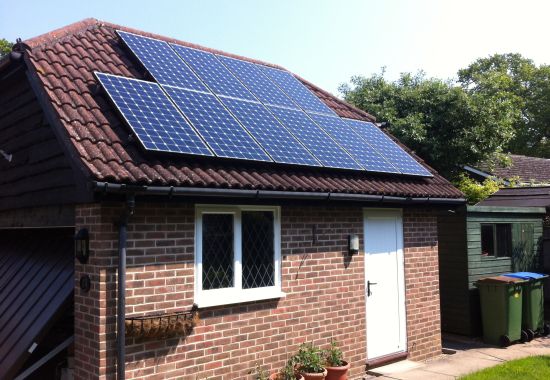 We might not admit it, but most of us like them secretly. You know the toys and the gadgets that big boys – and sometimes girls – like to mess around with. In truth, maybe we've never actually grown up! Some of us even take the boy-toy mentality a step further and combine it with a desire to do just a little something to help save the planet and, of course, improve the current account balance at the same time. Maybe that goes just a little way towards explaining why the sale of solar panels is going up with each passing day. Whatever, it's surely the ultimate in boy toy eco-gadgetry!
It's also a great talking point; too, given a PV solar panel is highly visible. In fact, it's kind of hard to miss. It gives you opportunities to add an odd incredible fact or two into conversations with neighbors and friends. And don't smile too widely either watching their jaws drop in amazement. One-upmanship at its best, for sure! Here are some facts you'll certainly want to try out: in a single year, more solar energy falls on the surface of the earth than the total energy which can ever be produced by oil, coal, gas and other non-renewable resources combined. Also to mention the fact that countries in the Middle East and North Africa (MENA) region – for example, Jordan, Morocco, Algeria, Egypt, Saudi Arabia, United Arab Emirates, Israel – have the potential to produce more than three times the world's power needs through solar energy.
A photovoltaic (PV) system – like the one on your roof – uses solar cells to convert light into electricity and consists of multiple components, including cells, mechanical and electrical connections and mountings, and means of regulating and/or modifying the electrical output. Due to the low voltage of an individual solar cell (typically 0.5V), several cells are combined into photovoltaic modules, which in turn are connected together into an array.
According to the Indian government, employment for nearly 40 people is created during the building and commissioning of a 1-2 MW (Megawatt) PV project. This number increases by about 15 for every additional 1 MW capacity. In the case of solar thermal projects, it is estimated that up to 500 personnel are employed in a 20 MW capacity power project. It's not only in the MENA region and in India where the solar energy potential is so enormous. It's also breaking installation records in the United States, says a report, "US Solar Market Insight: Year in-Review 2012", released by GTM Research and the Solar Energy Industries Association (SEIA). With another record-breaking year, says the annual report, solar is the fastest growing energy source in the US, powering homes, businesses and utility grids across the nation.
The report adds, "Perhaps most importantly, clean, reliable, affordable solar energy is continuing a major growth pattern that has made it a leading source of new electricity in America that's increasingly competitive with conventional electricity across dozens of states today. "Even with the cost of solar energy falling for consumers, the market size of the US solar industry grew by 34% from $8.6 billion in 2011 to $11.5 billion in 2012 – not counting billions of dollars in other economic benefits across states and communities.
As of the end of 2012, there were 7,221 MW of PV and 546 MW of concentrating solar power (CSP) online in the US – enough to power 1.2 million homes." Want a few more facts about solar energy? Then go here. Or you can check out the US Solar Market Insight report here.