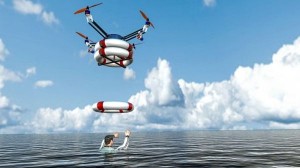 The concept
Let's simply accept the fact – the current technology trends are unremittingly revolutionizing our lives for better in a lot of ways. This time, it's a distinctively conceptualized rescue robot 'Pars Aerial' by an Iranian research center, which not only launches seamlessly from a floating platform, but also helps save drowning people in the ocean who are in trouble. The quadcopter, which also drops life preservers, is basically designed to address the soaring figure of drowning people in the Caspian Sea along the Iranian shoreline. Although RTS Lab initially devised a short-range rescue bot, Pars Aerial was later enhanced with much better and broader possibilities. Integrated with simple controls and a slew of sensors, the flying rescuer aims at saving people from drowning in the ocean.
The purpose
The amazingly conceptualized Pars Aerial works for a sole purpose, i.e. to hover over drowning people in the ocean and provide them with life preservers. Although the current model of Pars Aerial does not feature artificial intelligence or ultrasound sensors, the rescue robot hopes to help people near beaches and coastlines. The lightweight quadcopter, however, catches attention for encompassing a series of latches underneath that can reliably hold and discharge life preservers one at a time. In fact, the Pars drops life preservers exactly where they are needed; however, it does so after picking some help from the embedded gyroscopes, accelerometers, GPS, an electronic compass, and a barometer. And yes, not to forget, it could also be prepped up for aerial reconnaissance to help saviors get a bird's-eye viewpoint of an emergency.
The feasibility
Since most of the initial design work and feature integration has been done and evaluated, the purposive Pars Aerial Robot certainly reveals great possibilities in the near future. However, for now, the developers as well as researchers are seeking funding to devise an industrial prototype of Pars Aerial. However, they are planning to manufacture the quadcopter in a large number for greater possibilities.