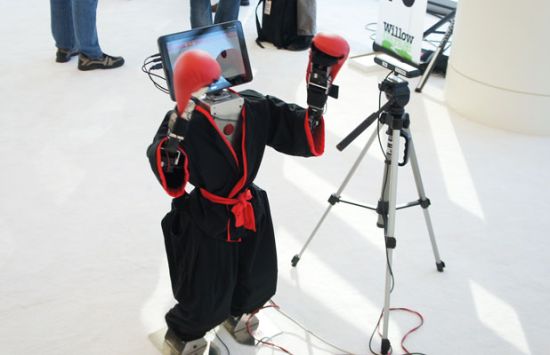 You can't help but appreciate the expertise that Japanese have in facilitating robots with barely credible capabilities. Now this time, to amaze us all, Japan based technology company RT Corporation has come up with its Ninja Master robot. At Google I/O, the Android powered robot left the crowd speechless with its ability to imitate human gestures. With its metallic legs and arms, the 4 feet tall boxing robot is as swift as a humanoid can be.
While its most probable uses include working with kids or entertaining affluent owners as a telepresence device, it can also deliver nasty punches to send one flying (not literally). At the booth, the cute humanoid, wearing boxing gloves, shorts and a robe, could make exact gestures as were being made by a RT corp representative. Be it moving in a particular direction, a high punch or a step forward, the robot replicates all these movements.
A 10-inch Acer Iconia tablet neatly placed where robot's "head should have been", relies on a client app and the Ninja Master's boxing app to make all these movements possible. The robot could be moved using a standard gaming controller. Priced at $50,000, the robot flaunts fluid arm movements and gesture controls to woo would-be customers.
Via: LaptogMag