Are you thinking of buying the newly launched Lenovo IdeaPad Yoga 13? Wait! You might be going to burn a hole in your pocket. Surprised? Read on below how Lenovo has failed to impress its consumers this time and why you should simply ignore this product: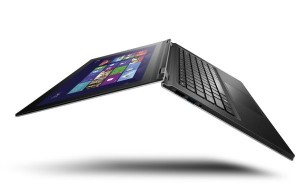 A 'Tablet' or What?
The biggest con of the Lenovo IdeaPad Yoga 13 is its size and weight. While the market is flooded with a great variety of lightweight and easy-to-handle tablets, Lenovo has come up with a bulky machine, which is absolutely of no use. You must be looking for a handy gadget that can easily be slipped into your handbag (less than 7" screen size) and carried effortlessly (less than 1 lb weight). So do you think this 13.3" device of 1.5 kg is a good choice for this purpose?
Not at All a 'Convertible' One
No, the IdeaPad Yoga 13 is not that adaptable as claimed by the company. You cannot detach its display from its base. Rather, you can rotate it completely (a full 360 degrees) around the base. It means it is a laptop having a gyratory display, but you do not have the choice to separate the display from its remaining part and work as per your convenience.
Unreliable Display and Touchscreen
Well, the HD + IPS Capacitive Multitouch Display of the product is a true nightmare. It comes with a HD Ready 1600X900 resolution, which is not good for a tablet. The loss of PPI (Pixels per inch) is clearly noticeable due to the absence of 1080p HD. In addition, the touchscreen of the device is enough to give you a pathetic experience each time you use it.
No Sufficient Storage and I/O Ports
Another major drawback of this tablet is its storage. While most of its counterparts offer 500 GB or more storage capacity, this futile product allows you to store only 128 GB or maximum 256 GB data, which is ridiculous! You might also need to invest in a USB hub as there are only two I/O ports instead of four.
Worst Design and Performance
The design of the IdeaPad Yoga 13 is remarkably poor. From the introduction of concave keys to the inclusion of 'Backspace' and 'Shift' keys to the right side, each and every 'idea' involved in the advent of this 'IdeaPad' is erroneous.
There are also a number of other problems such as, weakly built track pad, no supplementary click button, driver related troubles, frequent heating, difficulties in Wi-Fi connection, poor battery life, and so on, which decelerate the performance of the device largely.
In a nutshell, the IdeaPad Yoga 13 is a complete 'mess' and Lenovo needs to eliminate each of these issues. Is the company hearing?