The Boombox became famous in the 1980s though they came to the market in the 1970s. They are capable of playing your favorite AM or FM radio stations, CDs and cassettes. They are popular because anyone can easily take it to any place and it is capable of producing loud and crisp sound. It is also referred to as the Jambox and loved by the hip-hop singers. The Boomboxes have been used in many hip-hop videos. It is true that with the progress of technology the Boombox has lost its fans but the technical experts are trying their best to create modern and technologically enhanced Boombox. The 5 following Boombox will surely rekindle your love for retro things.
Fab Boombox:
A MIT student Matt Keeter has built a fabulous Boombox for his class project. Matt candidly says that it can be made by anyone. It will cost around $100 to make this Boombox. It is made of plywood and for speakers this Boombox uses octahedral prisms. The wooden Boombox has capacitive music controlling buttons.
Boompack:
Massimo Battaglia invented the Boompack which can be carried just like a backpack. It is lightweight and easy to carry. You can use it in various ways. You can watch videos and listen to music. Dancers find it very helpful because they can take it to anyplace and then practice. Unlike the old Boomboxes the Boompack is neither heavy nor complicated.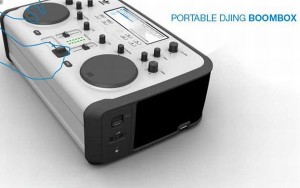 Portable DJing Boombox:
The Portable DJing Boombox is a dream come true for the aspiring Djs around the world. It helps you mix and create superior quality sounds anytime and at any place of your choice. DJs have to use lots of tools and carry those around. It is a hectic task. With the help of the DJing Boombox you can save time because it is very portable. Jan Vierjahn has created this unique Boombox.
Reppo II:
Joonas Saaranen designed the Reppo II so that anyone can carry their music while partying. It is a backpack too and it is very light. The sounds are clear and loud and you will love dancing and chilling with this musical backpack.
Bucket O' Sound:
Sang Hyun Jeong has designed this very unique Boombox that can be carried to any place you want. You can play both CDs and MP3s in it.