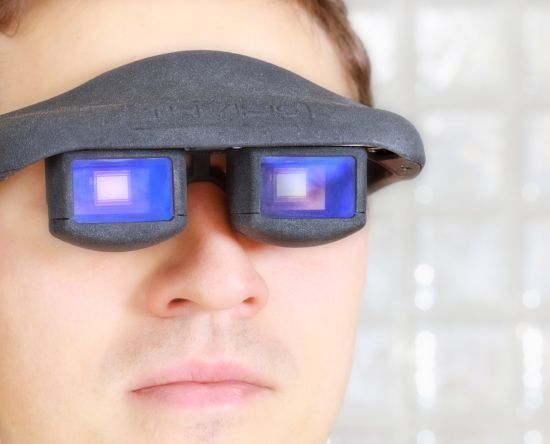 Created by researchers from the Fraunhofer Center for Organics, Materials and Electronic Devices Dresden (COMEDD), the new pair of data glasses comes integrated with an OLED micro-display to let you scan the virtual world with ease. For, users can turn the pages of an online manual or digital document, presented on OLED display, using their eyes only. Ideal for professionals, such as mechanics, technicians and surgeons, the OLED data glasses allows hands free document navigation.
Incorporating a combination of photodiodes and OLED pixels, to work as a camera to register direction and as a display respectively, within the lenses, the data glasses let the user see what they are doing while performing a task. To go through the document, you need to look up at the sky where the data is being projected on one meter (3.3 feet) virtual display, while you can turn the page with a glance on an aero visible on one side of the display.
Developed in partnership with the Fraunhofer Institute for Optronics, System Technologies and Image Exploitation and near-the-eye tech firm TRIVISIO, the revolutionary glasses let the user send and receive information to and from a linked, LINUX or Windows, computer.
Via: Gizmag