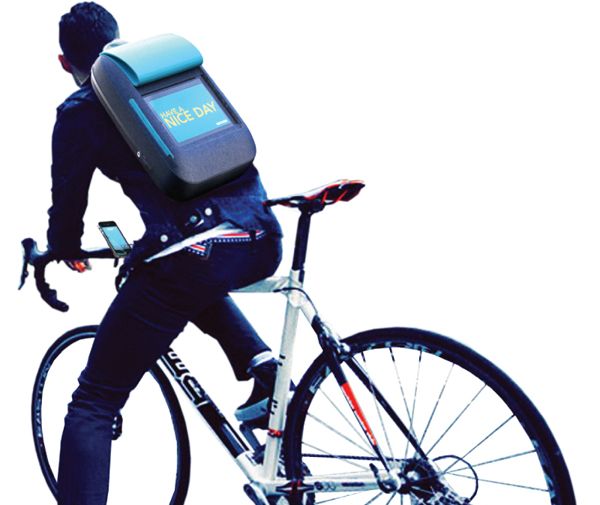 With the advancements in science and technology, modern gadgets have become so versatile that they help users in one way or the other to make their life easy. Have a look at the latest iPad backpack by South Korean designer Soohun Jung that assists modern bikers through packed city roads. All the user needs to do is put the iPad into the backpack and open blue cover to make the display visible, so the vehicles moving behind could read signals on the screen and drive accordingly to ensure safety.
Bikers can attach their iPhones to the handlebar of the bike and connect it with the iPad via Bluetooth for easy controls on the move. To indicate the left and right turn on the iPad display, you will have to swipe to the left and right accordingly on your iPhone screen. In case, you want to stop, iPhone's speed sensor recognizes the use of break and display slow down message on iPad's screen in the backpack.
In addition, iPad's cam transmits the rear view to the iPhone screen to make the rider aware of the surroundings. You can search bicycle course through community maps or recommendations, you can recommend a course to other riders as well. Moreover, riders can chat with their friends and other community members in a preset radius. Last but not the least, you can choose a message to display on your iPad's screen.
[Cheers Soohun]