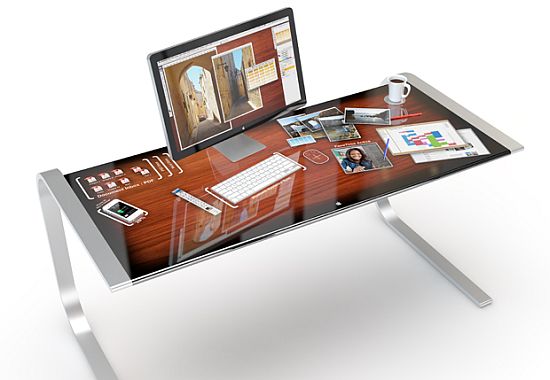 Illustrator Adam Benton has envisioned an iPad-like desk that tends to bring together divergent design philosophies of the two most celebrated tablet makers: Microsoft and Apple. Modeled after Microsoft's Surface technology, the adaptable workspace interacts with your equipment and enhances its usability. Capable of running numerous apps simultaneously, the touch-sensitive display would eliminate the need of having calendar, phone and digital Post-It notes. Users might see notifications, to-do lists, video conferencing, Adobe tool palettes, and countless widgets clubbed to offer hassle-free operations.
The highly productive workspace will allow users to stay abreast of their tweets, Facebook status updates, and YouTube links. While normal users often grope for ways to manage their mundane tasks, those using iDesk will avail the work-boosting benefits for nifty execution of same tasks.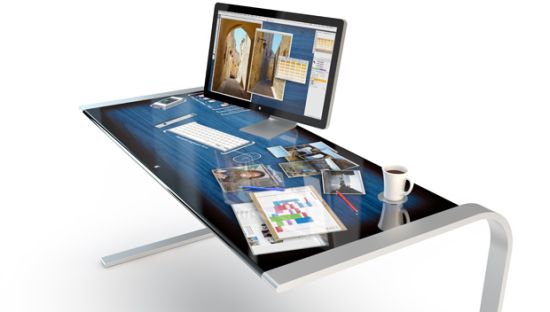 Next, the desk with built in Mac will have an upward angled surface. A digital touch-receptive version might replace the tactile keyboards while allowing users to use desk's surface as the physical trackpad. Now the most important thing, the concept workspace will ensure speedy transfer of files between Macs, iPhones and iPads by a simple, swipe gesture. What users need to do is swipe file icons and place them on the target surface. Digital inboxes, or digital trays will relocate documents from iDesks to target devices to further strengthen the data transfer process. Lastly the desk will communicate with iCloud to ensure global availability of your calendars, contacts, notifications, etc.
Via: Core77