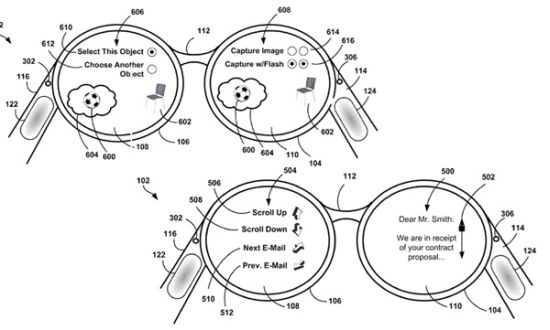 The US patent and trademark office has finally awarded Google with a patent for Google Glasses, which will allow the search engine giant to patronize the conception and creation of an "integrated finger-tracking input sensor device". The device, a physical trackpad, will sit on the right side of glasses allowing users to control the system by using their fingers. So, if you thought everything to be voice controlled, you seriously need to go through the details provided below.
The integrated finger tracking input sensor will sense finger movement in planar direction along the wearable frame. Next, the system will supply gathered input information to the processor which is later transferred to the wearable display. As the users keep gathering further information through finger touch, the same is converted into display information which the processor further uses to execute the functions.
…wherein the first finger-operable input device is substantially transparent, and a second finger-operable input device secured to the wearable frame structure via a second of the two projections and configured to provide gross-motor input information to the processor and sense at least one of a position and movement of a finger along a planar direction relative to a surface of the second input device, and to provide corresponding input information to the processor.
– Google Patent
The massive patent reveals everything about the touch panel(s), the UI and the wearable display. While all this was filed some weeks back, the USPTO formally condescended to confer this patent to Google lately.