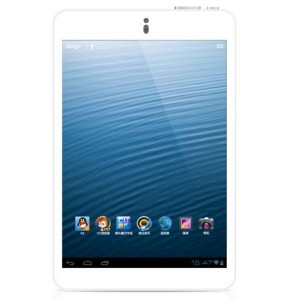 The product
Cube, a giant in the manufacturing of Chinese tablets launched some months ago the U30GT2 tablet which was equipped with a quad core processor of Rockchip RK3188. This tablet is one of the first devices from Cube to be enabled with this processor and most of the users have claimed this model to be incredibly fast. Moreover, Cube officials have informed that they are in the process of producing a smaller tablet enabled with the same fast processors. This mini version called Cube U30GT is expected to hit the streets at the end of this month. The U30GT MINI2 has a 7.9" screen and an IPS display of 1024 x 768 pixels. Its shape and size is almost similar to the Apple iPad mini.
The benefits
Besides being fast, this mini tablet has a number of other qualities. The tablet contains 2GB of RAM along with a storage capacity of 16GB. Its 5MP rear camera and the 2MP front camera will not only enable you to take quality pictures but will also let you video chat with your friends without blurring your image. It also features 4000mAH battery, ARM Mali 400 graphics and a HDMI output.
The trend
This Cube U30GT MINI2 is all set to become the new love of tech freaks, not only because of its wide range of quality features but also because of its highly reasonable price. You will get to buy it at only $190 and can enjoy almost all the features of Cube U30GT2 tablet for which you will have to pay an additional $75.
This mini version tablet from Cube is also expected to set a trend for using mini tablets rather than the larger one as they conatin the same features and is available at lower price. Moreover, the mini version is also more convenient to carry with yourself than its bigger brother is.