Have you thought about how easy it would be if the issuance of digital credentials and certificates was automated? Well, this amazing advantage is now accessible with this SaaS platform 'Certopus' which makes it possible!
Certopus is a comprehensive platform for managing your digital credentials and certificates. It enables users to easily create, distribute, verify, customize, mass email, and monitor all digital credentials and certificates in one place.
Certopus offers both free and paid versions that can be used by anyone, even those without any technical background. All you have to do is sign up for free which unlocks 50 free certificate credits to try out its services.
With the Certopus Pro Lifetime deal, there are several added benefits that enable you to streamline your entire certificate issuance process right from bulk certificate creation to content mix analysis and monitoring.
How can

Certopus

benefit you?
Create high-quality certificates and digital credentials easily and quicklywith just a few clicks.
Generating and sending emails in bulk. This can save you a lot of time.
White labeling of email and domain services can be beneficial in enhancing your brand's value and establishing a digital presence.
Create digital credentials that can be verified. Certopus provides the ability to detect even the slightest alteration in a pixel.
Monitor your campaign's progress in real time which can help you to plan accordingly for improved outcomes in the future.
What are the Certopus Pro Plans?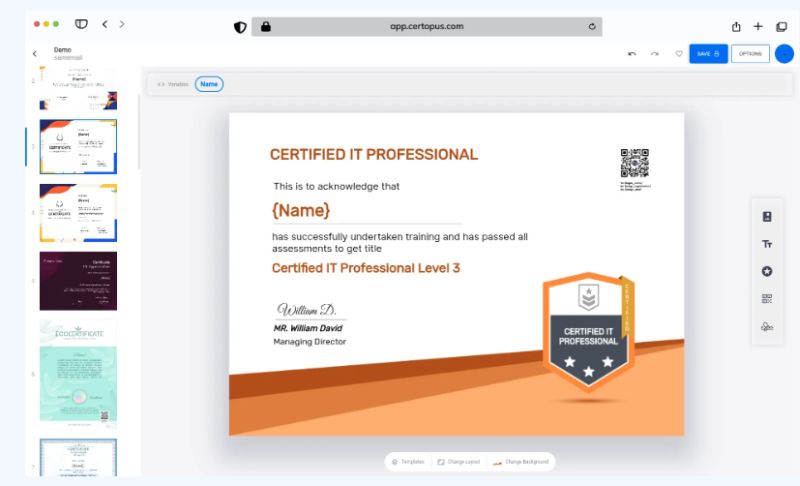 Image Source : certopus.com
Certopus paid version offers three plans, which you can choose as per your requirement. The pro plans are:
The Basic plan is ideal for micro-businesses, available for only $14.99 with 250 certificates that come with verifiability support and premium design templates. It also provides bulk generation and mass mailing capabilities, with up to 2 events per month.
The Standard plan is ideal for event organizers and provides everything from the Basic plan, plus 1250 certificates and features like email white labeling, analytics, up to 5 events per month, and priority support.
The Professional plan is ideal for large businesses and costs only $74.99 for 2500 certificates, API integrations, premium white-labeling, everything from the Standard plan, analytics, and up to 10 events per month.
Who should use Certopus?
Educational institutions, course creators, training providers, seminar/webinar/conference organizers, NGOs, communities, associations in the compliance industry, event planners, HR managers who want to retain and recruit talented employees, as well as growth hackers, can all benefit from Certopus.
Main Reasons For Choosing Certopus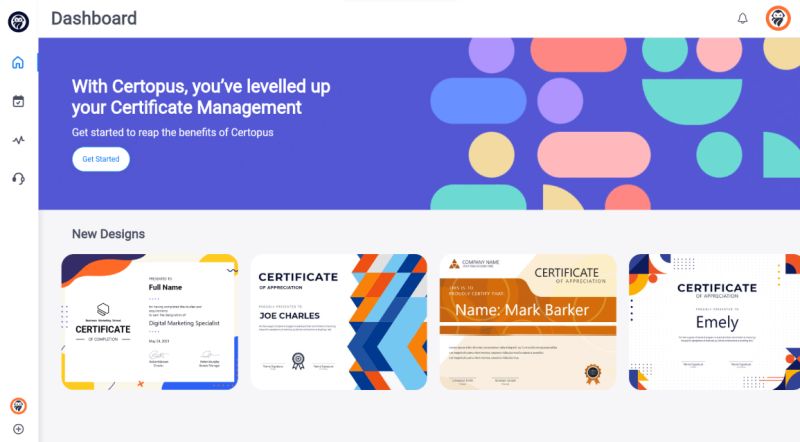 Image Source : certopus.com
Certopus Makes Your Certificates Tamper-proof – Certopususes industry-standard protocols such as IPFS and HMAC-SHA256 hashing algorithm to make sure your certificates are secure and tamper-proof.
Smart Certificates in Pdf Format – Certopus enables you to create professional-looking, vectorized certificates in PDF format. Choose your template from a vast library available on this platform.
Boosts Your Bussiness and Reputation –Generating certificates in bulk and delivering them quickly can save both time and money, resulting in increased productivity and customer satisfactionin your business.
Benefits of Certopus
Cost savings – more economical than physical certificates, allowing you to make the most of your budget.
Saves time –Generate thousands of certificates quickly, saving time and delivering them in a short period.
Prevents counterfeiting –tamper-resistant verification process ensures the authenticity of your certificates, so you don't have to worry about counterfeit certificates that could diminish their value.
No dependence on other tools –It eliminates the difficulties associated with relying on multiple tools and offers a unified approach to managing certificates.
Increases the reach of Certificate Authority –Digital Certificates are readily available and can be shared quickly on social media, boosting the visibility of your business.
Better availability –Recipients are assured of a 99.9% availability of their certificate records, enabling them to access them whenever and wherever needed.
Better insights –Gain insights from post-event analytics to assist in planning future events.
Summary
In conclusion, Certopus is an ideal choice for those looking for an economical, user-friendly, and efficient way to manage their certification process. Offering a range of benefits, this platform is efficient and suitable for a wide range of industries and organizations. So why wait more? Try it out now!