None of us can resist smartphones, then why should our grandparents or parents? Let us assume that you brought a new cell phone for your grandfather, but he cannot use it because it is very confusing for him. Even if they are using one, you can always make your phone grandpa friendly with few tricks.
Make texts bold and big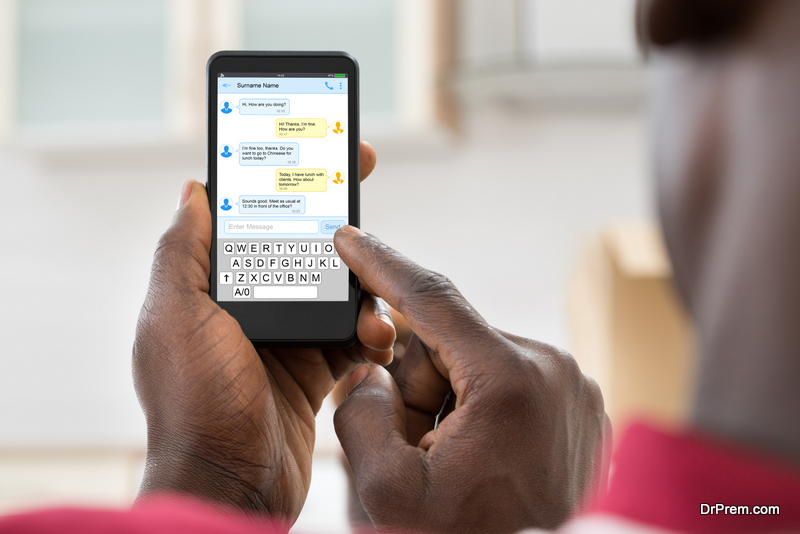 Elder person squinting their eyes on tiny texts of TVs and newspapers. The same problem of reading small texts arises while they use smartphones and this is the main reason why they do not like to operate them. But, you can help them by simply making the texts readable for them.
For Android
Tap on Settings > Display > Vision>Font size
Move the bar towards huge on the given slider. You can also change the screen zoom to maximize the apps and texts.
For iPhone
Tap on Settings > General > Accessibility
Select bold text, tap on Larger text and move the slider to increase font size.
Maximize the keyboard layout
Android phones come with small keyboards that make it difficult for the elders to type. There is a simple solution to make your phone grandpa friendly. Add extra space on the keyboard to make typing easy.
Tap on new message > Select settings from keypad>Keyboard size and layout, then maximize the keyboard line.
Change the keyboard or input language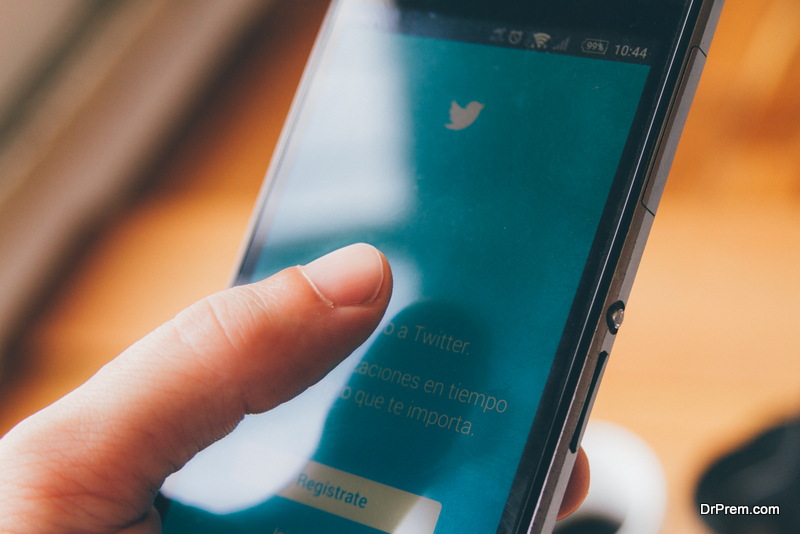 You have made the typing easy, but what if they do not like the QWERTY keypad or want to use some other language? Not to worry, there are different keyboard layout and languages available to switch and make your phone grandpa friendly.
For Android
Tap on new message>Select settings from keypad > Language and types>Change the input language or keypad layout from qwerty to 3 x 4.
For iPhone
You have to download a keyboard and then you can add the same.
Settings > General > Keyboard > Keyboards > Add a New Keyboard
Use Magnifier Window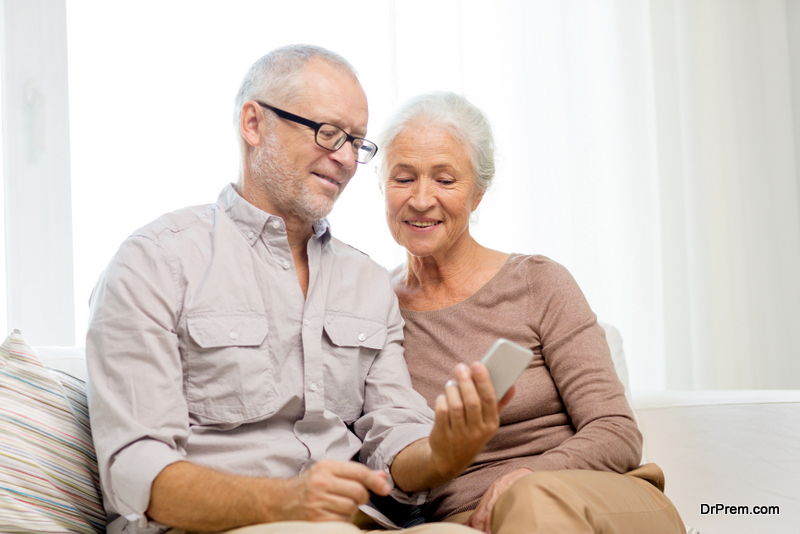 If the elder is having trouble while reading any online document, you can suggest magnifying window.
Navigate to Settings>Display>Vision>Magnifier Window.
Apart from that magnifying pan, there are magnifier apps for seniors that can help your grandpa to read physical documents. These apps use the phone camera and give bigger text on the screen.
Enable Subtitles
Even young people require subtitles to watch some contents online. Elder people who are troubled with hearing issues will find it helpful. The only problem is that this feature will not work with all the apps. Still, something is better than nothing.
For Android
Select Settings > Accessibility > Hearing > Enable Subtitles
For iPhone
Browse Settings > General > Accessibility
Enable Subtitles & Captioning
Text-to-speech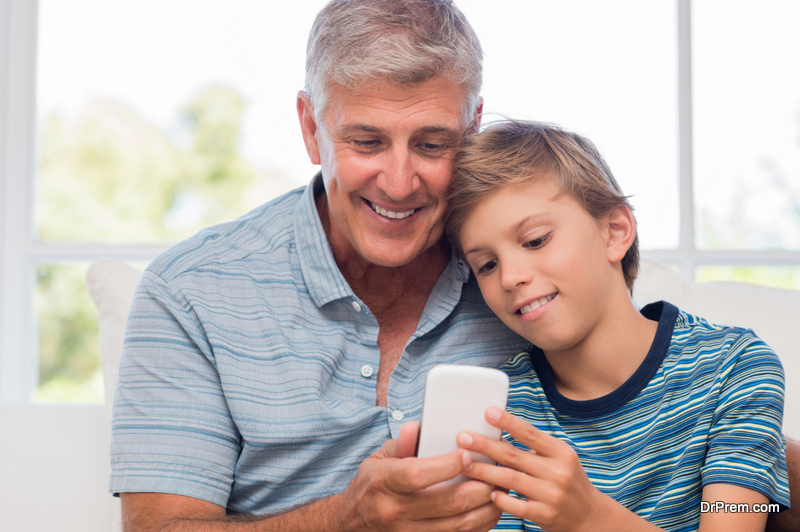 The feature can loudly read any document for visually impaired elders.
On Android
Tap on Settings > Accessibility > Enable Text-to-Speech
On iPhone
Browse to Settings > General > Accessibility > Select VoiceOver
Hearing Aid apps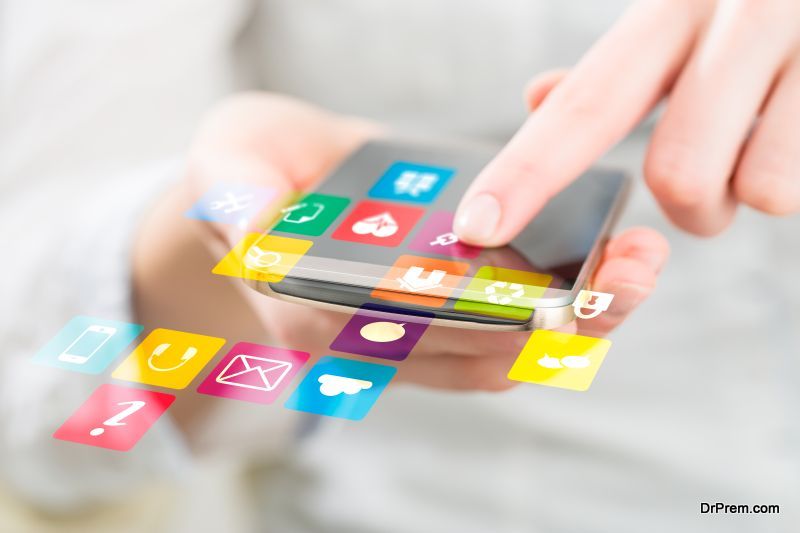 Download the app, open it, connect earphones and slide the volume accordingly. The app can come handy if your grandpa is not carrying his hearing aid box or the battery ran out. Very simple to use, but one of the useful apps for seniors.
Install Teamviewer
If you stay away from your parents or grandparents then install Teamviewer on their smartphones. It gives you instant access to their device and you can easily guide them on how to questions or if they are facing any trouble, fix it. Ask them to download the app, open it, ask them for given code and access the smartphone from your computer.
Download Launchers
One of the best ways you can make your phone grandpa friendly is by downloading app launchers to the device. These launchers have an easy interface and big texts so that they can use it even without glasses. Few successful Android launchers for elderly
A) Wiser
Easy to set up that even elders can set this up if you just ask them to download it from Play Store. Once installed, it gives a home screen with basic links like Dialer, Messages, Contacts, Camera, Gallery, and Applications. Swiping right gives you the option to add favorite people. Swipe right again and you see two blank pages to add a favorite app for easy access.
B) Necta
Once installed, its default page shows date and time, three favorite contacts and basic apps including calling, messaging and camera. It has its App drawer where you can add required apps and has settings like Wi-Fi as well. The trial is free for the app and a full version is available for $6.99.
C) Big Launcher
As the name suggests, it is big with bold and bright icons/texts that elder with vision problems can also access it without any trouble. It also has a built-in SOS app where users can call or message in case of an emergency. The app does not have a camera or gallery app, so it will direct you to the default apps. Overall, it is one of the best android launchers for elderly.
It has a price tag of $10/100 INR, but you can try it for free with limited features.